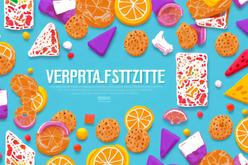 Gift-Giving Made Easy: Delicious Snack Ideas for Everyone
Are you looking for the perfect gift that will bring a smile to your loved one's face? Look no further than snacks! Not only are they delicious, but they also make the perfect gift for any occasion. Here are some reasons why you should consider giving snacks as a gift and some ideas for different dietary preferences.
Why Snacks Make the Perfect Gift
Personalization and Variety
When it comes to gift-giving, it can be tough to find something that suits the recipient's tastes. But with snacks, you can personalize the gift to the individual's preferences. Whether they have a sweet tooth, a love for sour snacks, or prefer something savory, there's a snack out there for everyone.
Not only can you personalize the flavor, but you can also choose from a variety of snack forms. From chips and popcorn to jerky and nuts, there's always something new to try. And with so many options, you're sure to find the perfect snack for any occasion.
Easy to Share and Enjoy
Sharing snacks with friends and family is a great way to bond and make memories. Whether you're at a party, on a road trip, or simply enjoying a late-night snack, snacks are a great way to bring people together.
And let's face it, not everyone has the time or energy to cook a full meal. Snacks are a quick and easy option for those who want to satisfy their hunger without spending hours in the kitchen. Plus, they're a great option for those who are always on the go.
Budget-Friendly Options
Gift-giving doesn't have to break the bank, especially when it comes to snacks. There are many budget-friendly options that are still delicious and appreciated. You can create a DIY snack basket with an assortment of treats or choose to give a subscription snack box for a longer-lasting gift.
And the best part? Snacks are often less expensive than traditional gifts, making them a great option for those who want to give a thoughtful gift without spending a fortune.
So the next time you're struggling to find the perfect gift, consider giving the gift of snacks. With their personalization options, easy sharing capabilities, and budget-friendly options, snacks truly make the perfect gift.
Snack Ideas for Different Dietary Preferences
Vegan and Vegetarian Snacks
For those who follow a vegan or vegetarian lifestyle, there are plenty of snack options available. From plant-based protein bars to veggie chips and nut butter, there's no need to sacrifice taste for a restricted diet.
One great vegan snack option is roasted chickpeas. They are high in protein and fiber, and can be seasoned with a variety of spices to add flavor. Another option is hummus with veggies or pita chips for dipping. Hummus is made from chickpeas and is a great source of plant-based protein and healthy fats.
Gluten-Free Snacks
Those who are gluten intolerant or have celiac disease don't have to miss out on the fun of snacking. There are plenty of gluten-free options out there, such as rice crackers, popcorn, and dried fruit.
Another great gluten-free snack option is edamame. These soybeans are high in protein and fiber, and can be seasoned with salt or other spices for added flavor. Rice cakes with almond butter and banana slices are also a tasty and gluten-free snack option.
Keto and Low-Carb Snacks
Snacking doesn't have to derail a ketogenic or low-carb diet. There are plenty of snack options that fit within those dietary restrictions, such as beef jerky, nuts, and keto-friendly protein bars.
One great low-carb snack option is hard-boiled eggs. They are high in protein and healthy fats, and can be seasoned with salt and pepper for added flavor. Another option is celery sticks with cream cheese or almond butter for dipping.
Nut-Free Snacks
For those with nut allergies, snacking can be tricky. However, there are still many delicious and safe options out there, such as popcorn, pretzels, and fruit snacks.
Rice cakes with sunflower seed butter and banana slices are a tasty and nut-free snack option. Another option is roasted pumpkin seeds, which are high in protein and healthy fats, and can be seasoned with a variety of spices for added flavor.
DIY Snack Gift Baskets
Are you looking for a unique and thoughtful gift for a friend or loved one? Look no further than a DIY snack gift basket! Not only is it a personalized and thoughtful gift, but it's also a fun and easy project to put together.
Choosing the Right Basket or Container
When it comes to making a DIY snack basket or gift box, choosing the right container is key. You want to make sure that the container is the right size for the snacks you plan to include. A reusable basket or tote bag is not only practical but also environmentally friendly.
For a more rustic and vintage feel, consider using a wooden crate or a metal tin. For a more modern and sleek look, opt for a clear plastic container or a wire basket. The possibilities are endless!
Themed Snack Baskets
Create a theme for your snack basket based on the recipient's interests. This is a great way to show that you put thought and effort into the gift.
For a movie lover, put together a basket of popcorn, candy, and soda. You could even include a DVD or a movie theater gift card. For a coffee lover, include coffee-flavored snacks or beans and a mug. You could also include a French press or a coffee grinder for the ultimate coffee experience.
If the recipient has a sweet tooth, consider putting together a basket of their favorite candies and chocolates. You could also include some homemade baked goods, such as cookies or brownies.
Adding Personal Touches
Adding a personal touch to your DIY snack basket is a great way to show you care. Consider making your own snacks, such as homemade granola bars or popcorn seasonings. You could also include a handwritten note or a small gift, such as a scented candle or a bookmark.
Another way to add a personal touch is to include snacks from the recipient's favorite local bakery or specialty store. This shows that you not only put thought into the gift but also support local businesses.
Overall, a DIY snack gift basket is a fun and easy way to show someone you care. With a little creativity and thoughtfulness, you can create a personalized and thoughtful gift that will be appreciated and enjoyed.
Subscription Snack Boxes: The Gift that Keeps on Giving
Are you tired of giving the same old gifts every year? Do you want to surprise your loved ones with something unique and exciting? Look no further than subscription snack boxes! These boxes are the perfect gift for those who love to snack and want something that lasts longer than a single bag of chips.
Benefits of Subscription Snack Boxes
Subscription snack boxes offer a variety of benefits that make them an excellent gift option. Not only do they provide a monthly, bi-monthly, or quarterly delivery of delicious snacks, but they also introduce recipients to new and exciting flavors they may not have discovered otherwise. It's like having a personal snack concierge who curates the best snacks for you!
Additionally, snack subscription boxes are perfect for those who are always on the go and don't have time to shop for snacks. They're also great for those who want to try new snacks without committing to a full-sized package.
Popular Snack Subscription Services
There are many snack subscription services to choose from, each with its own unique offerings. For example, NatureBox offers a wide variety of healthy snacks made with high-quality ingredients, while SnackSack provides a mix of healthy and indulgent snacks that are perfect for any occasion. Graze, on the other hand, offers a customizable snack experience where you can select which snacks are included in your box.
Other popular snack subscription services include Love With Food, Urthbox, and Bokksu, which specializes in Japanese snacks. No matter which service you choose, your recipient is sure to love the delicious and exciting snacks that arrive at their doorstep each month.
How to Choose the Right Subscription for Your Recipient
Choosing the right snack subscription service for your recipient can seem overwhelming, but it doesn't have to be. Start by considering their dietary preferences, such as if they are vegan, gluten-free, or have any food allergies. Then, think about their snack preferences. Do they prefer sweet or savory snacks? Are they a fan of spicy foods?
You should also consider your recipient's budget when choosing a snack subscription service. Some services offer more affordable options, while others may be more expensive but offer higher-quality snacks. And don't forget, some services allow you to customize your box by selecting which snacks are included or excluded.
With a little research and consideration, you can find the perfect snack subscription service for your recipient that will provide them with delicious and exciting snacks for months to come.
In conclusion, snack-giving is a fun and thoughtful way to show your loved ones you care. With so many options, including DIY baskets and subscription boxes, there's no excuse not to give the gift of snacks. Happy snacking!