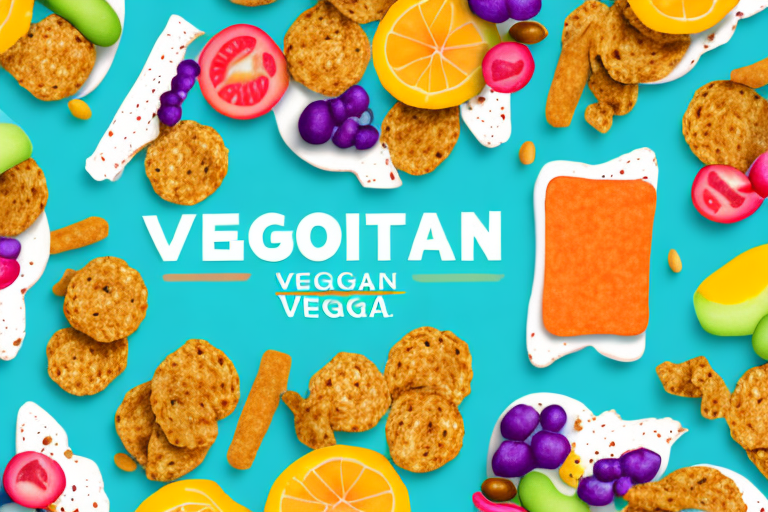 10 Delicious Vegan Snacks for Every Occasion
Going vegan is one of the popular trends nowadays. With health as the primary concern, more and more individuals are opting for a vegan lifestyle. A healthy vegan diet includes a variety of plant-based foods. Snacking can be tricky, but it doesn't have to be! Vegan snacks can be delicious, nutritious, and easy to prepare. To help you in your vegan journey, we've put together a list of 10 delicious vegan snacks that will inspire you to try new flavors and textures.
Savory Vegan Snacks
Are you a fan of savory snacks but trying to stick to a vegan diet? Look no further! Here are three delicious and easy-to-make vegan snacks that are sure to satisfy your cravings.
1. Crunchy Roasted Chickpeas
Chickpeas are a great source of protein and fiber, making them a healthy snack option. But did you know that they can also be transformed into a delicious and crunchy treat? To make roasted chickpeas, simply drain and rinse a can of chickpeas and pat them dry. Toss them in a bowl with some olive oil and your preferred spices, such as garlic powder, cumin, or smoked paprika. Spread the chickpeas out on a baking sheet and roast them in the oven at 400°F for 20-30 minutes, or until they're golden and crispy. Enjoy them as a snack on their own or sprinkle them on top of a salad for added crunch.
2. Vegan Spinach and Artichoke Dip
If you're looking for a creamy and indulgent snack, try this vegan spin on the classic spinach and artichoke dip. To make the dip, blend together a handful of fresh spinach, a can of artichoke hearts (drained and chopped), vegan cream cheese, garlic, and lemon juice in a food processor. Add salt and pepper to taste, and if you want an extra kick, add some red pepper flakes. Serve the dip with freshly sliced vegetables, such as carrots, cucumbers, and bell peppers, or with your favorite crackers.
3. Stuffed Mini Bell Peppers
Mini bell peppers are not only cute, but they also make the perfect vessel for a savory and satisfying snack. To make stuffed mini bell peppers, slice the peppers lengthwise and remove the seeds. In a bowl, mix together vegan cream cheese, chopped chives, and diced tomatoes. Spoon the mixture into the pepper halves and sprinkle with smoked paprika for added flavor. These stuffed peppers are perfect for a party appetizer or a midday snack.
There you have it, three delicious and easy-to-make vegan snacks that are sure to satisfy your cravings for something savory. Give them a try and let us know which one is your favorite!
Sweet Vegan Treats
If you're a fan of sweet treats but want to stick to a vegan and gluten-free diet, you're in luck! There are plenty of delicious options that are both healthy and satisfying. Here are three of our favorite sweet vegan treats:
4. No-Bake Chocolate Peanut Butter Bars
These no-bake chocolate peanut butter bars are the perfect solution when you're craving something sweet but don't want to turn on the oven. They're made with just five simple ingredients: oats, peanut butter, maple syrup, coconut oil, and cocoa powder. The result is a deliciously sweet, salty, and crunchy treat that's perfect for any time of day.
To make these bars, simply mix together the oats, peanut butter, maple syrup, coconut oil, and cocoa powder in a bowl. Once everything is well combined, press the mixture into a baking dish and freeze until set. Once the bars are firm, cut them into squares and enjoy!
5. Vegan Banana Bread Muffins
If you're a fan of banana bread, you'll love these vegan banana bread muffins. They're made with ripe bananas, whole wheat flour, coconut sugar, and cinnamon, and are the perfect breakfast or afternoon snack. The muffins are fluffy, moist, and perfectly sweet, and are sure to satisfy your sweet tooth.
To make these muffins, simply mash the ripe bananas in a bowl and add in the whole wheat flour, coconut sugar, and cinnamon. Mix everything together until well combined, and then spoon the batter into a muffin tin. Bake in the oven for 20 minutes, and enjoy!
6. Coconut and Almond Energy Balls
If you're looking for a healthy and energizing snack that you can take on-the-go, these coconut and almond energy balls are the perfect choice. They're made with dates, almonds, coconut flakes, and chia seeds, and are packed with protein, fiber, and healthy fats.
To make these energy balls, simply blend together the dates, almonds, coconut flakes, and chia seeds in a food processor until everything is well combined. Once the mixture is smooth, roll it into bite-sized balls and store in the refrigerator until you're ready to enjoy. These energy balls are easily customizable, and can be flavored with cinnamon, cocoa powder, or vanilla extract for added variety.
Healthy Vegan Snack Options
As a vegan, finding healthy snack options can be a challenge. But fear not, there are plenty of delicious and nutritious options to choose from. Here are three more snack ideas to add to your repertoire:
7. Fresh Veggie Spring Rolls
These fresh veggie spring rolls are not only a colorful and tasty snack, but they are also packed with nutrients. Carrots, cucumbers, and bell peppers are all great sources of vitamin C, while the rice paper wrapper provides a gluten-free alternative to traditional wraps. For added flavor, dip them into a homemade peanut sauce made with natural peanut butter, soy sauce, and a touch of honey.
8. Kale Chips with Nutritional Yeast
Kale chips are a great way to satisfy your craving for something salty and crunchy without the guilt. Kale is a nutrient-dense leafy green that is high in vitamins A, C, and K, as well as antioxidants. Nutritional yeast adds a cheesy flavor to the chips while also providing a boost of protein and B vitamins. To make them, simply toss kale in some olive oil and sprinkle with nutritional yeast, salt, and garlic powder. Then, bake until crispy.
9. Chia Seed Pudding
Chia seed pudding is a versatile snack that can be customized to your liking. Chia seeds are a great source of plant-based protein, fiber, and omega-3 fatty acids. When mixed with coconut milk and maple syrup, they create a creamy and satisfying pudding that can be topped with fresh fruit and granola for added crunch and flavor. You can also experiment with different flavor combinations, such as adding cocoa powder or matcha powder to the mix.
Indulgent Vegan Snack Ideas
Are you tired of the same boring snacks and looking for something new and exciting? Look no further than these indulgent vegan snack ideas! Not only are they delicious and satisfying, but they're also healthy and compassionate choices.
10. Vegan Nachos with Cashew Cheese
Who said vegan snacks can't be indulgent? These vegan nachos are the perfect combination of crunchy, savory, and cheesy. The cashew cheese is made by blending soaked cashews, nutritional yeast, garlic, and lemon juice together, creating a creamy and flavorful topping for the crispy tortilla chips. But it doesn't stop there! These nachos are also loaded with black beans, avocado, and tomatoes, adding a healthy dose of protein, fiber, and vitamins. Serve these nachos at your next party and impress all your guests with this delicious and guilt-free snack.
11. Chocolate Avocado Mousse
Craving something chocolatey but don't want to indulge in a heavy and unhealthy dessert? Look no further than this vegan chocolate avocado mousse! This creamy and decadent dessert is made by blending ripe avocado, cocoa powder, sweetener, and vanilla extract in a food processor until it's smooth and luscious. Avocado is a great source of healthy fats, fiber, and vitamins, making this dessert not only delicious but also nutritious. Serve it chilled with some fresh berries or toasted nuts for an extra flavor and texture boost.
But these two vegan snack ideas are just the tip of the iceberg! There are so many other delicious and indulgent vegan snacks out there waiting to be discovered. From creamy hummus and guacamole to crispy tofu bites and vegetable spring rolls, the options are endless. And the best part is, you can enjoy these snacks without any guilt or harm to animals. So why not try something new and embrace the benefits of a healthy and compassionate lifestyle?